Welcome to the sAInce IIoT Verse
It's been a while that we posted a blog and for a very good reason. We were making a new baby, the sAInce IIoT Verse! After 1,5 year of continuous design and development and thorough testing we finally delivered the end product: the sAInce IIoT Verse.
Through the sAInce IIoT Verse you connect any type of device and integrate its data with your own process data, build complex business logic and enhance the system with AI capabilities. The sAInce IIoT Verse provides a full set of pluggable modules and architecture that you build upon to create fully integrated industrial IoT systems fast and with minimal effort.
Industry native
Built for the industry
The IIoT Verse consists of a set of industrially designed edge controllers and physical components that you can use to assemble a fully operational industrial IoT solution. We carefully designed and selected the appropriate components. So you get an extremely powerful system that can act as a IoT gateway and provides full interoperability between devices of different brands and protocols. No hassle with all those different protocols anymore. Whatever your equipment is talking, we have an advanced translator for you. Just connect your device(s) with our smart IIoT Controller, configure the protocol(s) and start interchanging data!
The IIoT Verse also consists of a set of applications/modules that you can use to build full-fledged IIoT applications. We currently release IIoT Board, IIoT Cockpit, IIoT AI Cam and IIoT Guard.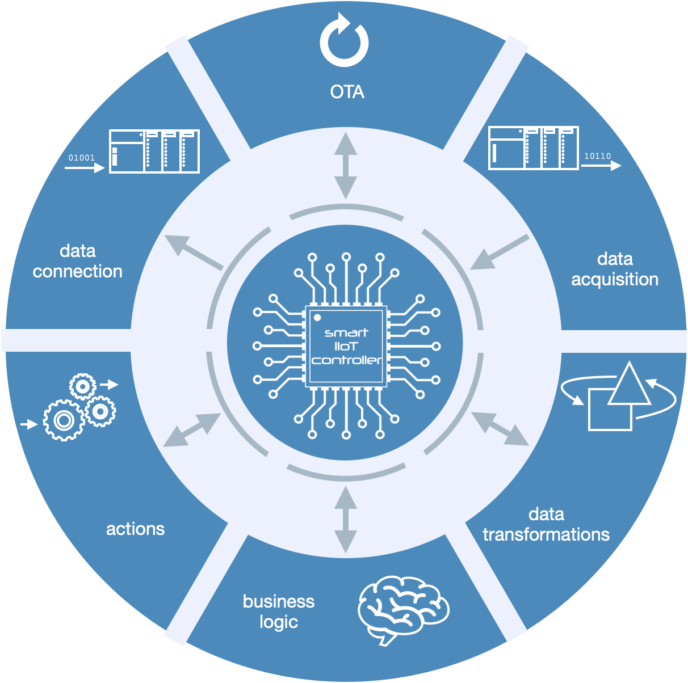 At the heart of the system the smart IIoT Controller acts as an IoT Gateway and advanced protocol converter. At the same time this controller contains smart micro-services that add dynamic business logic for system integrations, data transformations, actions (e.g. notifications) and over-the-air-update functionality.
All these services are fully configurable so they can be used to assemble a full industrial IoT system for any use case. Think about OEE dashboards, real-time monitoring, SCADA HMIs, equipment data augmentation, data integration and so on.
The smart IIoT Controller includes all the functionality of a big electrical cabinet in 1,5 the size of a shoebox, eliminating the need to build costly electrical cabinets (including power supplies, electronic circuit breakers, switches and communication equipment), hence reducing the space of your technical area.
Built for AI
But there's more. Nowadays we want to incorporate AI for tasks that our equipment can't do out-of-the-box and on the huge dataset our equipment provides. So we also designed an AI controller powered by Nvidia™ to support deep learning tasks like object detection, anomaly detection and predictive maintenance in real-time and where it matters: right next to the equipment. Train DL models in the cloud but apply them on the edge in real-time. So yes, you can learn from your machine data immediately by using the IIoT Verse.

Built for compliance
Connect any type of sensor to our smart IIoT Controller. We built in a system that automatically translates the address of a sensor and connects this with its serial number. So no hassle anymore with calibration. Just unscrew the sensor that needs to be calibrated, plug in a pre-calibrated sensor and calibrate the sensor in a remote lab. There's no downtime when calibrating sensors.
Pluggable architecture and modules
Securely connect any sensor, anytime, anywhere
All communication of sensor data goes through a secure MQTT broker and all communication is encrypted. Whatever type of device, whether it's a PLC, a sensor, a modbus device, a bacnet system etc. you can connect it and all data is captured in real-time on the edge and stored in pre-defined frequencies in the cloud.
Don't bother also with rewiring all sensors back to the main controller. We designed a system that enables you to daisy-wire sensors so you can really connect-and-play.
The smart IIoT Controller contains a set of micro services that can be used to add business logic, map data, add transformation logic, filtering logic and so on. All this is configurable and not carved in stone.
Real-time monitoring 24/7
The IIoT Board is as a fully responsive HTML-5 web app that can be configured to monitor any type of equipment and even as a SCADA HMI to interact with the equipment. This web app runs on the smart IIoT Controller so it can directly communicate with the equipment. IIoT Board is typically used for OEE dashboards, real-time monitoring or SCADA HMI applications.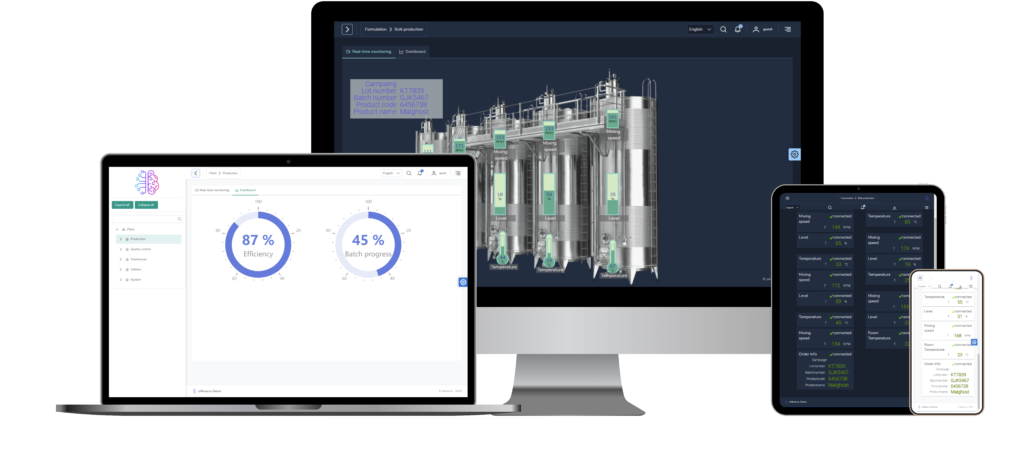 Securely analyse from anywhere, anytime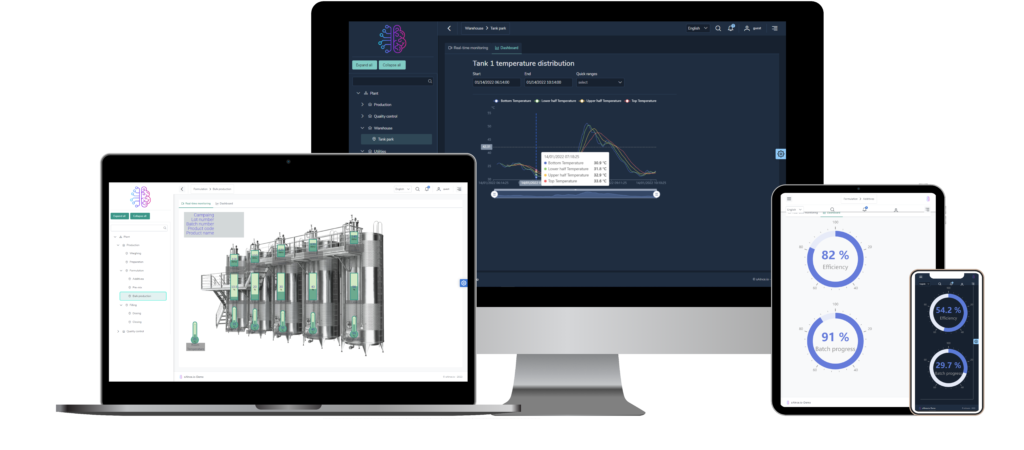 The IIoT Cockpit is a fully responsive HTML-5 web app that can be configured to monitor and analyse all your assets. This application runs in the cloud so you can use it anywhere you go. IIoT Cockpit is typically used for analysing data and providing monitoring support away from the production floor.
Detect any combination of objects in real-time
Additional to the IIoT AI Controller we also release IIoT AI Cam, an application that provides state-of-the-art object detection. Train the model for any kind of object or combination of objects in the cloud and apply the model on the edge. Up to 8 IP cams can be served through the application.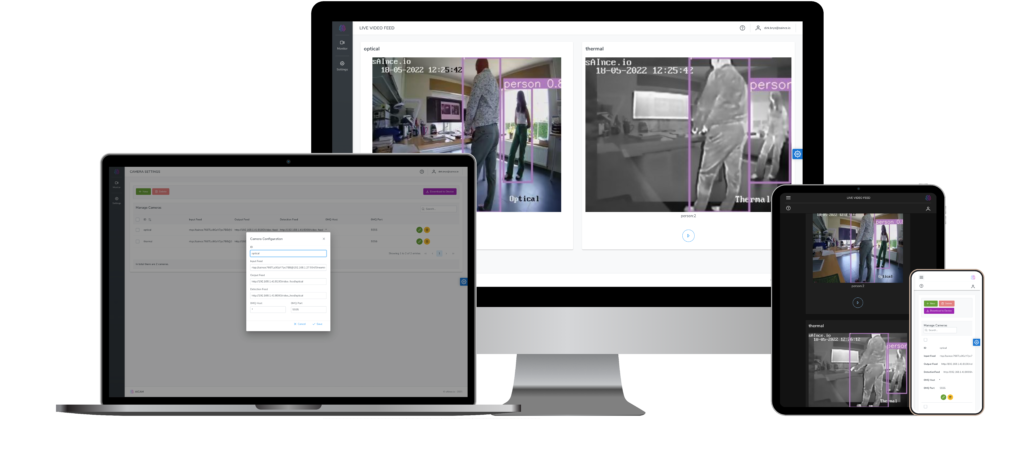 And did we mention that all functionality, visualizations, asset structure etc are configurable? There's no limit in the use cases for which you can apply these applications.
And of course we eat our own dogfood. All our edge controllers and micro-services are monitored too so we know exactly how much resources are being used and whether we need to do some preventive maintenance or not.
Continuous monitoring never takes a day off, but rest assure: you can.
Want to know more?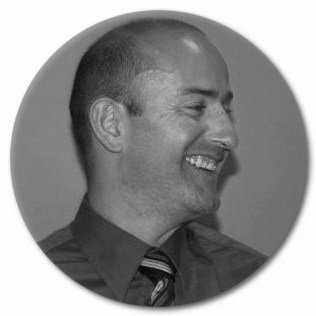 Originally I started my career as an expert in OO design and development.
I shifted more than 15 years ago to data warehousing and business intelligence and specialised in big data and data science.
My main interests are in deep learning and big data technologies.
My mission: store, process and deliver data fast, provide insights in data, design ML models and apply them to smart devices.
In my spare time I'm very passionate about Salsa dancing. So much that I performed internationally and that I have my own dance school where I teach LA style salsa.